Mike Weber speaks with The Boston Business Journal on the rise of Office-To-Lab Conversions
Recently, Mike Weber spoke with Catherine Carlock of the Boston Business Journal regarding the rise in Office-To-Lab Conversions within the Boston/Cambridge Construction Market. This cover story also featured Steve Lynch of King Street Properties and Bob Coughlin of JLL Boston.
Due to increased life science tenant demand, many building owners are making the jump to lab space in submarkets that were not historically known as lab hotspots – including Kenmore Square, Fort Point, Allston, and Watertown.
Additionally, an office-to-lab conversion requires significant planning, budget considerations, and a review of building infrastructures to be sure that a conversation is feasible.
From the article:
"Labs require redundant power sources, sophisticated HVAC and mechanical systems and higher floor-to-floor ceiling heights than a standard offices, which can make it difficult to convert an older building," said Mike Weber, a principal at Gaston Electrical in Norwood. It's also common for biotech tenants to rapidly grow in their physical space needs once they have a commercial product, or receive FDA approval for their work.

"We've done a job for a customer in a 10,000-square-foot lab area, and two years later, we're doing 200,000 square feet," Weber said.

Boston Business Journal / October 1, 2021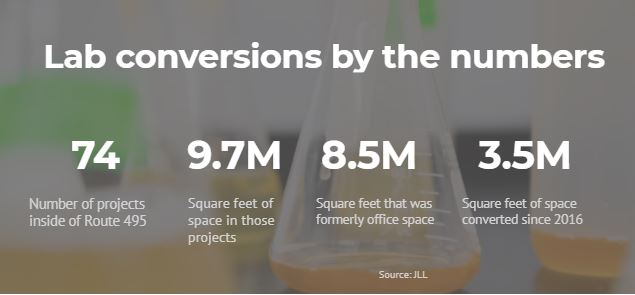 To read the entire article. please click here. And to learn more about our recent Life Sciences Projects, visit our portfolio page here.